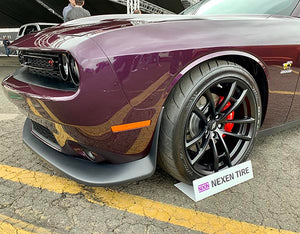 Nexen N'Fera SUR4G Drag Spec Clearance Sale
Many of our Dodge Challenger, Charger and Chrysler 300C clients are sick and tired of their all season rubber that come standard on these cars. In my personal opinion, the tires should never be that narrow or slippery on these beasts of a car! The V8 Versions of these models come with a 6.4L hemi that easily spins the stock 245/45-20 tires all the way through 3rd gear, so new bigger tires completely change the feel of these vehicles.
For the clients that love to street, test and race their 0-60's or 1/4 mile times, our solution is the Nexen N'Fera SUR4G Drag Spec tire in 275/40-20. This tire is original equipment on the Dodge Challenger R/T 1320 Scat Pack and rockets the car to levels of performance that only the Hellcat and Demon models have. Most of the Scat Pack vehicles will have 20x9 or 20x9.5 wheels standard and will be able to fit the Nexen Drag Radials, however it can fit up to a 20x11 wheel. Check your wheel size before ordering.
We have been getting such good feedback on the tire, that many of our clients have been stashing up a set just for the future! Some great features we've been hearing is that the tire is great in rain, mild mannered for the street with low noise and high comfort, while still being able to break into the high 3 second range for 0-60 and high 11 second and low 12 second range for the quarter mile times. Some longevity tests on certain client cars show that the tire can last 9000+ miles and with 25+ drag strip runs with a good burnout. We have also had some clients autocross and track the tire on a road course circuit with great results! These tires provide significantly more grip for performance driving situations.
At $175 each plus shipping, there's no reason why you shouldn't jump on this deal! For Southern California clients that have the liberty of coming to our shop, we will install the tires for 50% off when you purchase the tires through our website and include in the notes that you would like install in the checkout stages. We are also offering an amazing $60 flat rate shipping deal no matter how many tires you buy.
https://trueperformancemotorsport.com/products/nexen-n-fera-sur4g-drag-spec
Some of our clients' video's below. Check our their videos for feedback on the SUR4G Drag Spec.
Founder, True Performance Motorsport
---